William M. Wheaton "BILL"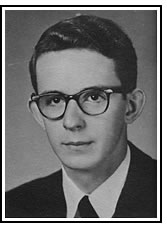 <!div class="clearthefloats"><!/div>
Date Submitted: March 26, 2003
Plan To Attend 50th Class Reunion?
Spouse's Name: Lou
Years Married: 43
Where I Live In Now:
Number of Children: We have three children, one daughter, two sons.
Number of Grandchildren: 0
Number of Great Grandchildren: 0
Work history: I was employed at the old "Albion Malleable Iron" plant, its now called Harvard Industries, Albion Division, the company closed in June of 2002, after 114 years in Albion, with the loss of over 500 jobs. I worked there as an Industrial Electrician for 35 1/2 years enjoyed my work but am now retired and driving, part time for ED HAAS trucking.

When retired, plan to move to: Stay in Albion

Hobbies: Enjoy working with my wife on home projects, Coin Collecting,Old Cars and traveling in the United States.

Have traveled to: We have been to France twice for our Sister City program, A small town 14 miles west of Paris, we also enjoy going to Phoenix Arizona where our daughter lives.

Of interest to other classmates: I plan on staying in Albion as its current Mayor with this term to expire in December 2004. I have been involved in city politics since 1992, first being a councilman, then becoming Mayor in August of 1999.

Things I remember about Albion High School: My favorite teachers were MYRON SEARS, General Metals, Roger Magnusm, Government, and MARC Zeluff, who taught Mechanical Drawing and Wood Shop.

E-mail address: WmWheaton@yahoo.com

Personal website:

Work website:

Photos: