Virginia "Ginny" (Vitale) Sturgill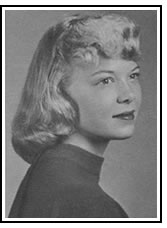 <!div class="clearthefloats"><!/div>
Date Submitted: June 2, 2003
Plan To Attend 50th Class Reunion?
Spouse's Name:
Years Married: Married twice, 7 years first time to Ken Watts, 19 years second time to Paul Sturgill, have been single since 1987 and plan to stay that way.
Where I Live In Now: Careywood, ID
Number of Children: 5.......three biological, Barbara Sue, age 42, Chris, age 41, and Wes (deceased in 9/2000), from a massive heart attack, he would have been 40 in August; stepdaughter, LoriAnn, age 39, and adopted son, Zane, age 18 in July.
Number of Grandchildren: Biological grandson, Michael, age 10; step granddaughter Ashley, age 21, step granddaughter, Amber, age 20
Number of Great Grandchildren: One........step great granddaughter, LeAnn, daughter of Ashley.
Work history: Presently doing accounting for a small construction firm, also for a theme park in Northern Idaho Previously ....... have been real estate, property management, land investing; sales rep for copper/brass/steel/aluminum; asst. manager of a motel; office manager of insurance company; and for many years, had a horse farm in Michigan...... just got back into the horse business in 2002, in Idaho......... presently only have two TWH mares and two new fillies.

When retired, plan to move to: Don't plan on ever retiring !!!!!

Hobbies: : Walking, hiking, biking, horse-back riding, cross country skiing, all water sports, fishing,reading, Bible studies, snowmobiling, four wheelering, to name a few.

Have traveled to: Only the North American continent........... would like to go to Australia, and other places someday.

Of interest to other classmates: I am really into health eating, and proper nutrition........ do not smoke, drink, do coffee , and very little white sugar, white flour products.......... and feel better than I did in my 20's. Try to walk 2-3 miles at least 6 days a week......... and try and always have a positive mental attitude.
I would also like to add that I became Seventh Day Adventist , and started keeping the Sabbath (Saturday) as a Holy Day, back in 1993......... and I have become healthier, happier, more joyful and peaceful every since....... May God bless you all, and hope to see you for the 50th reunion in 2008.

Things I remember about Albion High School: I loved being in band and all musical events....... also the Thespian Club plays, and the school newspaper........... had some really great friends that I have lost all contact with........... hope to hear from some of you.

E-mail address: vjs@bigplanet.com

Personal website:

Work website:

Photos: