Edna (Smith) Laughrey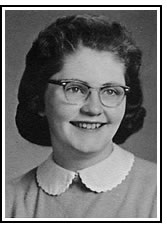 <!div class="clearthefloats"><!/div>
Date Submitted: May 14th, 2003
Plan To Attend 50th Class Reunion?
Spouse's Name: Earl
Years Married: 41 years
Where I Live In Now: Saline, MI
Number of Children: 0
Number of Grandchildren: 0
Number of Great Grandchildren: 0
Work history: I taught school in St. Clair Shores and Manchester, MI before returning to school to become a librarian. I was at the University of Michigan Graduate (Hatcher) Library for 23 years. After that I was the director of a public library copop. My current employer is in Paris and supplies French language books to university libraries and art museums. I am their North American rep.

When retired, plan to move to: Never, it's too much fun!

Hobbies: Reading, cooking (and eating), travel, crafts

Have traveled to: Everywhere in North America, some in Mexico and eastern Europe

Of interest to other classmates:

Things I remember about Albion High School: Good teachers, football games & dances

E-mail address: elaughrey@aol.com

Personal website:

Work website:

Photos: