Dan Seelye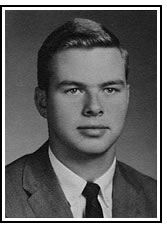 <!div class="clearthefloats"><!/div>
Date Submitted: September 2, 2008
Plan To Attend 50th Class Reunion? Yes
Spouse's Name: Ruthie
Years Married: 27
Where I Live In Now: Albion
Number of Children: 3 Girls
Number of Grandchildren: 7
Number of Great Grandchildren: 0
Work history: Started in the clothing store (SEELYES) in the 50s. Along with my wife Ruthie, we owned and operated the store until 2003 when we closed and retired. Now working partime in sales at Lautenslager-Lipsey appliance, Tidd Funeral Home.

When retired, plan to move to: Probably never will completely

Hobbies: Our grandchildren

Have traveled to:

Of interest to other classmates: Past volunteer with Sheridan Fire Dept. and the ALBION Ambulance service. Past president Albion Chamber of Commerce. Member First United Methodist board of trustees. Albion planning commission and zoning board of appeals.

Things I remember about Albion High School: Band & dance band, stage plays. Ray Hawarny and Helen Hieber

E-mail address: seelyes@hotmail.com

Personal website:

Work website:

Photos: