David Scoggins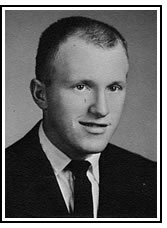 <!div class="clearthefloats"><!/div>
Date Submitted: April 26, 2008
Plan To Attend 50th Class Reunion? No
Spouse's Name: Faye
Years Married: 40 years
Where I Live In Now: Gilbert, AZ
Number of Children: 2
Number of Grandchildren: 4 (So far)
Number of Great Grandchildren: None
Work history: 2 years at Union Steel Plant 4/22 years U.S.Air Force/5 years Northrop Corp 10 Years AT&T. In addition to my previous jobs, I worked as a test driver at Nissan's test site in Maricopa, AZ

When retired, plan to move to: Have retired in Gilbert.

Hobbies: Reading, Net Surfing, playing with Grandkids

Have traveled to: Alaska, Hawaii, 44 of the lower 48, Canada, Japan, Guam, Midway, Wake, Phillipines, Thailand, Cambodia, Vietnam, New Zealand, American Samoa, England, Scotland, France, Germany, Norway, Turkey, Spain, Italy, Greece, Israel and Australia.

Of interest to other classmates:

Things I remember about Albion High School: Mr Ulrey's Chemistry class, dances in the gym, being Hall monitor, Macbeth in English class for 1 semester so many great friends, GRADUATION!!!

E-mail address: bandit64c@cox.net

Personal website: Don't have one (yet)

Work website:

Photos: