Larry Pombier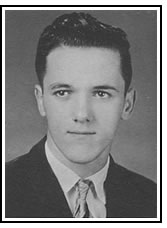 <!div class="clearthefloats"><!/div>
Date Submitted: 1995
Note from Larry's son, Chris: I thought that you would like to know that my father who was classmate of yours at Albion High School, Larry Pombier, passed away on August 28th. He had been suffering from Alzheimer's for the past few years and had steadily declined in health. After several strokes and heart issues as well, he finally succumbed to pneumonia on August 28th.
He fought long and hard, but in the end, all the various health problems when added together were just too much. He had a very simple funeral, and was cremated per his wishes. His ashes were interred at a cemetery not far from his home in Melbourne. He loved Florida, and was very happy to have moved south to avoid our cold winters here. I just wish he would have had more time to enjoy his retirement. Health issues kept him from enjoying the things he loved for the last few years. All he wanted was to spend quiet time with his wife, fish, ride his bike, play cards with friends, and enjoy the occasional game of bingo.
He was a good man, a good husband, and a good father. He provided a good example for his children, always emphasizing the value of education. Three of his four sons are college graduates, while the fourth graduated from a vocational school at the top of his class. His strength, courage, and sense of humor were unsurpassed. He was a very honest man who always kept his word. Above all he lived for his family, and sacrificed everything for them. He was married to my mom, Mary, whom he met in Albion, for almost 44 years. No one will miss him more than her.
Thank You, Chris Pombier
Spouse's Name: Mary
Years Married: 35
Where I Live In Now: Melbourne, FL
Number of Children: 4
Number of Grandchildren: 1
Number of Great Grandchildren:
Work history: Retired from GM Tech Center in Warren, MI

When retired, plan to move to: Already there

Hobbies: Fishing, bingo, bowling, and walking

Have traveled to:

Of interest to other classmates: In Michigan in summer/ winters in Flordia on private lake.

Things I remember about Albion High School: Math club, classmates and graduation day!

E-mail address (Larry's son Chris): cpombier@acninc.com

Photos: