Phyllis (Nash) Stone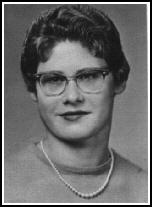 <!div class="clearthefloats"><!/div>
Date Submitted:
In Memory: Phyllis passed away April 12, 2005.
Spouse's Name:
Years Married:
Number of Children:
Number of Grandchildren:
Number of Great Grandchildren:
Work history:

Hobbies:

Have traveled to:

Of interest to other classmates: Phyllis A. Stone, 64, of Battle Creek, died Tuesday, April 12, 2005, at home. She was born March 14, 1941 in Albion the daughter of William and Edith (Wellington) Penn. Phyllis graduated from Albion High School in 1958. She married George R. Stone on September 12, 1959 in Albion. They later moved to Battle Creek. She is survived by her husband, George; daughter, Sallie L. (Jody) Pease of Waterloo, Indiana; son, Robert G. (Annette) Stone of Holland, Michigan; five grandchildren, three great grandchildren; sister, Mary Campbell of Hillsdale and a brother, Tom Nash of Albion. She was preceded in death by her father, William; step-father, Theo Nash and her mother, Edith.

Photos: