Paul Irwin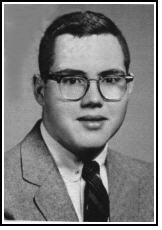 <!div class="clearthefloats"><!/div>
Date Submitted: May 16, 2008
Plan To Attend 50th Class Reunion? No
Spouse's Name: Margaret Irwin
Years Married: 44
Where I Live In Now: Middleton, WI
Number of Children: 3
Number of Grandchildren 4
Number of Great Grandchildren: 0
Work history:I spent most of my working years at Stanford University, in California, first as a professor of African history, later as a computer jock. This was all great fun. I retired from Stanford in 1998 to become a full-time house husband to my wife, who was then rector of a largish Palo Alto Episcopal church.

When retired, plan to move to: We moved out of California to Wisconsin, to a suburb of Madison, about four years ago, and that's when retirement really began. We have two of our four grandchildren just up the hill and we love being with them; we go to California regularly to enjoy other children and grandchildren; we have passions to pursue; we have a church we love; we have a gorgeous house and garden; we have lots to read. What could be better?

Hobbies: Woodworking -- this is a passion! I am trying to make arts-and-craft furniture, and it keeps me going for lots and lots of hours. I have recently been off to Maine to the Center for Furniture Craftsmanship to learn how to make even better things. One of my other shticks is road-biking, and Dane County, Wisconsin with all its rural ups-and-downs is just the right place for that.

Have traveled to: Much of the US. Most of western Europe, as far as Istanbul, and to West Africa. My wife and I lived in Nigeria for two years as Peace Corps Volunteers in the mid-60s and then in Burkina Faso in the 70s, where I did research for a PhD dissertation and then for a book. We've also been some in Mexico studying Spanish. Late this summer we are going to Iona in Scotland -- sadly at the time of the reunion!

Of interest to other classmates: I am sorry not to be at our 50th reunion. Our family plans to travel to Iona, in Scotland, were made long before the reunion plans were, and just can't be changed. I'll think of you!

Things I remember about Albion High School:

E-mail address: pirwin@tds.net

Personal website:

Work website:

Photos: