Lelah (Gill) Siefert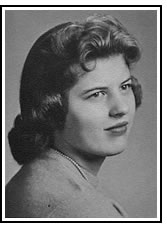 <!div class="clearthefloats"><!/div>
Date Submitted: 3-13-03
Plan To Attend 50th Class Reunion?
Spouse's Name: Robert (deceased 1997)
Years Married: 37
Where I Live In Now: Albion, MI
Number of Children: 2 one boy, one girl
Number of Grandchildren: 2 one boy 13, one girl 11
Number of Great Grandchildren: 0
Work history: Real Estate salesperson and Modular Home Sales Not planning to Retire yet. Took over Siefert Realty & Siefert & Assoc. when Bob died.

When retired, plan to move to:

Hobbies: Deer Hunting, Reading, Crafts, collecting Ducks (not live)

Have traveled to:

Of interest to other classmates:

Things I remember about Albion High School: Dances, Games, Joy Teen Horizon Club, pizza sales and slumber parties.

E-mail address: lsiefert@mindless.com

Personal website:

Work website:

Photos: