Loretta (Collins) Brown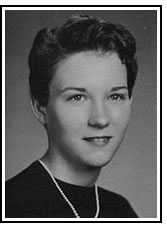 <!div class="clearthefloats"><!/div>
Date Submitted: September 10, 2008
Plan To Attend 50th Class Reunion? Yes
Spouse's Name: Widowed
Years Married:
Where I Live In Now: Jackson, MI
Number of Children: 1
Number of Grandchildren: 1
Number of Great Grandchildren: 0
Work history: Mortgage banking underwriting. Currently caring for 89 year old mother.

When retired, plan to move to: California

Hobbies: Arts'n crafts, euchre and bingo

Have traveled to: Many of the US states

Of interest to other classmates:Wow...50 years...where did the time go???
I have had an interesting and diversified life, both peronally and occupationally. I have been an Adminitrative Assistant, Executive Secretary, had a Notary Public Licene, a California Real Estate License, a CNA License, and was employed in the world of finance, as a loan processor and underwriter, and a loan document drawer and closer.
I also worked as a waitress, remember the A&W???. Also have been employed as a Home Health Aide, which I still do privately. I truly enjoy working with the geriatric crowd...(NOT us!!!)
I have belonged to the Lions Club in California, and a group called Wings of Angels, and currently am a member of the Eagle's Ladies Auxulary 612 in Jackson, MI. Oh yes, and let's not forget the Babcock 4H Club, GAA and the Polly Pigtails Club, way back when I was 9.
I had one daughter who is now 37...who also has one child, a son named Anthony, who just turned 8, and is in the 3rd grade. He loves books and Grandma Lorrie loves to send them to him, as he and his mother still live in the Santa Cruz area of California.
I have 3 step-grandchildren, Brandi who will be 20 and is attending JCC, Nathan, 17 who is a freshman at MSU, and Kristen who will be 13 in December.
I lived in California for 17 1/2 years, returning to Michigan in 1992 to care for my mother who developed the disease of Alzheimer's. Altho' I thought I was prepared to care for her, having attended a Alzheimer's Support Group and read the Alzheimer's Caregiver Bible, 36 Hours A Day.. Reality was and can be very different than we educationally prepare ourselves to believe.
I cared for her for 12 1/2 years. The first few were the most difficult. This experience taught me so many things about myself, my family and my perceptions regarding quality of life.
A truth I discovered was that it isn't necessary to have cognitive ability, to be happy. Mom and I shared many great times, flying to California, camping, visiting family and friends, attending church and eating out!! How she loved to eat! She taught me to be a "caregiver", instead of a home health aide.
During the years I cared for my mother, I was very active in the Alzheimer's Association, fund raising as well as public speaking to various service groups, educating people about Alzheimer's and sharing my experiences living with the disease of Alzheimer's.
Mom has been gone 4 years this month. There were some tough time, but if I had to make the choice again, I would not hesitate to be with her.
I spend my spare time reading, playing Bingo (who would have ever thought that would happen?)
Health wise I am blessed!! Arthritis would slow me down if I let it, but hey...as far as I know, there is only one opportunity to be alive on this planet!!!
I live alone with my 2 dogs, Gretchen and Crystal, a Rottweiler and American Eskimo respectively. 4 cats, Merlin, Taz, Fluffy and Phoebe, and one white dove named Lady.
I am happy and content in my own skin and in the world.

Things I remember about Albion High School: Joy teen activities; torch runs between Albion and Marshall (football season); "Salk" hops; The senior prom. Remember all those glasses we had to return. Stardust was our theme.

E-mail address:

Personal website:

Work website:

Photos: