Paul Clawson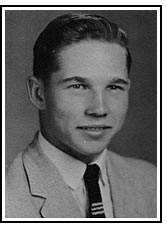 <!div class="clearthefloats"><!/div>
Date Submitted: April 4th, 2005
In Memory: Paul passed way January 5, 2005.
Spouse's Name: Janet
Years Married: 36
Where I Live In Now: Chagrin Falls
Number of Children: Three great kids, all married now
Number of Grandchildren: 3
Number of Great Grandchildren: 0
Work history: Job in the Defense Industry and a continued Naval Reserve Career. I have retired from the Defense Industry and the US Navy.

When retired, plan to move to: Move to Michigan where the fishing is better

Hobbies: Fishing

Have traveled to: I have done some international travel in my jobs, I won't list all the countries here, but the travel has taken me around the world twice.

Of interest to other classmates: Janet is from Maine, we met while I was on active duty in the Navy living in Washington, D.C.. We have lived here in Chagrin Falls, Ohio since 1971, but I call Michigan home and she calls Maine her home. So why did we come to Ohio? Janet ownes a H&R Block tax service here, so we probably will be here for another 5 to 7 years. I help her in this business as a tax pro.
Obituary: Age 65, of Bainbridge Township, OH, passed away January 5, 2005 at Cleveland Clinic, Cleveland, OH. Mr. Clawson was born in Albion, MI, August 21, 1939 to Matthew and Eunice (French) Clawson. Paul received his aeronautical engineering degree from Tri State College in Angola, IN and a MBA from Case Western Reserve University, Cleveland, OH. He was a United States Navy veteran serving in active duty from 1962 to 1967 and in the Naval Reserve until retiring as Captain and Commanding Officer in 1984. He lived in Bainbridge Township, Ohio and was a Geauga County resident since 1971. An avid pilot, he had received his pilot's license at the age of 17. He owned and flew several planes, his favorite being a 1967 Beechcraft V35 Bonanza. Other hobbies included genealogy and stock market research and trading. He was a member of the Bainbridge Community United Church of Christ. He retired from his engineering/ management position from Northrop Grumman after 27 years. Since that time had been a tax advisor for H & R Block, along with his wife, Janet. Mr. Clawson is survived by his wife of 37 years, Janet (Buccina); sons, Jeffrey (Carolyn) Clawson of Auburn Township, OH, Matthew J. (Danielle) Clawson of Parma, MI, and daughter, Michelle (David) Callahan of Aurora, OH. Grandfather of five. Brother of Janice (Bill) Kopolus and Landon Clawson, both of Albion, MI. Mr. Clawson was preceded in death by his parents, Matthew and Eunice Clawson. A Memorial Service will be held 3:00 p.m., Monday, January 10, 2005 at Bainbridge Community United Church of Christ, 17751 Chillicothe Rd., Bainbridge Township (Chagrin Falls, OH 44023). The family request no flowers. Memorials may be made to the Church.

Photos: